Tentacle Sync Studio feature request – Trim clips option
Hi, I just tested Tentacle Sync Studio in demo mode and I was amazed by its FCPX integration. Having FCPXML support in the app is super useful!
– First of all, I was really happy to see that you guys translate the iXML metadata from a BWF into Roles.
– Also, I love how you handle multicam clips:
· Using the "Sync Group" information in Sync Studio to create the necessary angles in FCPX's multicam clips is very clever!
· The default audio configuration works perfect in most cases: leaving all the components from the video angles turned off while keeping the components from the audio angle turned on. Very nice!
So far the only thing I would love to see coming to Tentacle Sync Studio is an option to trim Merged clips (what FCPX calls Synchronised clips) so that we don't get black at the beginning or end of the take when the audio clip is longer than the video clip. This is not how FCPX works by default but it is a very useful feature that for example Sync-N-Link X offers.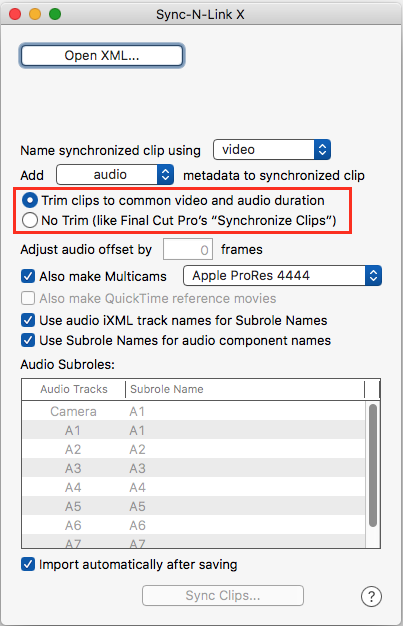 Perhaps you could add a "Trim clips" option to the Settings window? I believe this could be a workflow improvement for FCPX and Premiere Pro.
Anyway, congratulations on all your accomplishments. I hope you keep up the good work!
Jesús
Hi Jesús,
thanks for your nice feedback!
Regarding the "Trim clips", did you checked the clips marked with the "synced" keyword?
Those are trimmed to the video only. This has the advantage that you can rollout the audio tracks later in the timeline when needed. Could that be a solution for you? I am really interested in your feedback, because I am also not 100% sure if this is the right decision. Maybe it would be a good thing to state a handle length on export?
Best,
Ulrich
You are viewing 1 out of 4 answers, click here to view all answers.